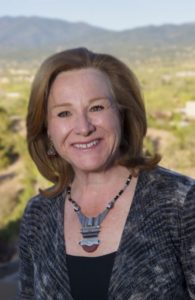 POLLY AHRENDTS
Polly Ahrendts is one of the principle partners in StoryCatcher, LLC, focusing on documentary filmmaking and television programming that will tell the compelling stories of transformation and empowerment of traditional artists in the developing world as they access global markets for their handmade arts and crafts.
Embarking on a personal journey to reinvent her life with new purpose and meaning, 14 years ago, Polly Ahrendts retired from a 23 year career in Houston, Texas with AIM Management (now INVESCO), an institutional investment mutual fund manager and executive.  
In Houston, Polly served on the Advisory Board of the Alley Theater and on the Board of Directors for the Center for AIDS, where she served as Treasurer and as the Annual Spring Fundraiser Chairman.
Through her 10 years of volunteer service for the International Folk Art Market|Santa Fe and on its Board, working with hundreds of traditional artists worldwide, Polly discovered a vast reservoir of hope for reversing the cycle of poverty through the simplicity of handmade art.
Polly also discovered the power of storytelling to move people to social action after producing a documentary film for the International Folk Art Market|Santa Fe, "The Silkies of Madagascar," and she delivered a TEDX Albuquerque talk based on these ideas in 2015.
Polly believes that Theatre Matters, because through the power of storytelling we can all relate to what is common in our shared humanity, as well as celebrating our diversity.  Theatre is a handmade, collaborative art form that has the power to enrich the lives of all that fall within its sphere of influence by sharing in the story being offered.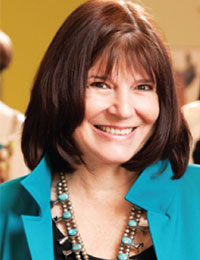 LETITIA CHAMBERS
Vice-President
Dr. Letitia Chambers is recognized for her accomplishments as the CEO of several corporations/agencies, her expertise as a manager, her contributions to public policy, and her service to educational and non-profit organizations.  Her private sector experience includes founding and serving as CEO for 20 years of a highly successful Washington, DC based consulting firm, Chambers Associates Incorporated, which she sold to a large global consulting firm, Navigant Consulting, where she became a Managing Director.
Most recently, she served as President and CEO of a large museum, where she led a strategic planning effort, followed by major financial and management reforms, as well as significant improvements in facilities.  Since retiring from the heard Museum in 2012, Dr. Chambers has maintained a part time consulting practice as Foothills Associates LLC.
In positions in the government sector, she served as Staff Director of two US Senate Committees in the 1970s, the Senate Committee of Labor and Human Resources and the Senate special Committee on Aging. In 1992, she served as the Chief Budget Advisor to the Clinton/Gore transition, where she led the Budget Policy Group and served on the Economic Policy Team. In 1996, Ambassador Chambers served as the U.S. Representative to the United Nations General Assembly, a presidentially appointed position of ambassadorial rank requiring confirmation by the U.S. Senate. In 2004-2005, she headed the state system of higher education in New Mexico.
She has served on several corporate Boards of Directors, primarily in the financial sector, as well as on Boards of Directors of numerous educational and non-profit organizations.  She has also served as an officer and/or Committee Chair on a number of the boards of directors on which she has served.
Dr. Chambers has a reputation as an accomplished speaker before large audiences, as well as in interacting with smaller groups, across the US, in several foreign countries and at the United Nations.  She appeared on Larry King Live, and several of her speaking engagements were covered by C-SPAN. In addition, she has been interviewed on several television programs and for articles in a number of publications. She also has authored or co-authored numerous articles, monographs, and reports.
Dr. Chambers resides in Santa Fe, New Mexico with her husband, the Honorable Peter P. Smith, former US Congressman (VT).
CLARA DOUGHERTY
I am a native of Northern New Mexico, my family having settled here in 1689 during the re-conquest of the New Spain.  I have been a licensed New Mexico Real Estate Broker since 1980, working the entire time in the Santa Fe marketplace.  In October of 1988 my husband, Wm. David Dougherty, and I started Dougherty Real Estate Co..  After 30 years as a Real Estate Broker Associate, I am proud of the depth of knowledge and information I have accumulated.  As a Broker Associate, my clients find my experience helps them assess quickly and efficiently where they want to be, what they are looking for and how their property relates to the market as a whole.
I specialize in fine residential properties and "just plain hard work."  Specializing in the listing and selling of fine properties – both residential and land – that offer something extra is my area of expertise.  This might be the incredible view property on the north side, the hard-to-find quintessential Santa Fe style on the Eastside, the classic hacienda in a traditional community like Tesuque, or a special ranch in Northern New Mexico.
I earned my Bachelor of Arts degree in Psychology from New Mexico State University and a Masters Degree in Business Administration/Finance with a concentration in Real Estate from the University of Arizona.  My community participation has included being the Director of the Santa Fe Association of Realtors, a Member of the Urban Land Institute, a Trustee for the New Mexico Museum Foundation, an Executive Officer for the Spanish Colonial Arts Society, and a Director on the Board of Catholic Social Services, to name a few.
Wm. David Dougherty, the Owner/Broker of Dougherty Real Estate Company, LLC, and I have been married since 1977.  We are avid readers, movie-goers, bird hunters, joggers, hikers and love to travel.  We particularly love to garden and walk with our dogs.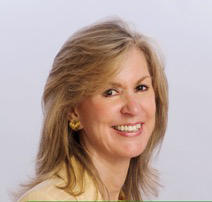 ANNE GALLAGHER
Anne has lived and worked in three of the most theatre-rich cities in the world: twelve years in London, six in Paris and the remainder in New York City.  She has worked primarily in the field of financial services, having served in both large and small firms in senior management, and lastly as a partner running the international Executive Search Investment Banking practice for Hanson Green Grosvenor, a leading search firm in London.  On returning to New York in 2001 Anne began using her vast experience gained from the senior management positions she has held to coach executives and up-and-coming young managers on effective management and leadership styles and improved methods of communication. 
Anne was a producer of the Tony award-winning play Say Goodnight Gracie and has served on several arts Boards while in New York City, most recently with the Flea Theatre in downtown Manhattan.  Anne's love of theatre has drawn her to the Adobe Rose Theatre as it represents a wonderful opportunity to work with theatre professionals to put Santa Fe on the map as a destination place for theatre.
BRUCE MCKENNA
President
Bruce C. McKenna is an award winning screenwriter and producer. He wrote on four of the ten episodes of HBO's Emmy Award-winning mini-series Band of Brothers, for which he garnered a WGA Award, a Christopher Award and was a finalist for the Humanitas Prize for his episode, Bastogne. He created, co-wrote and co-executive produced The Pacific, the Emmy Award-winning Miniseries for HBO, Steven Spielberg and Tom Hanks on the Pacific Theater of the Second World War. In addition to winning a producing Emmy, McKenna was nominated for his second writing Emmy, was again a finalist for the Humanitas Prize, and garnered a Producer's Guild Award, a Critic's Choice Award, as well as the Marine Corp Heritage Foundation Bill Broyles Image Award.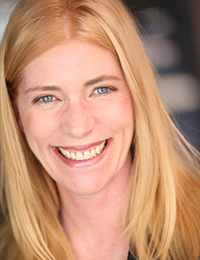 MAUREEN JOYCE MCKENNA
Founder & Executive Director
Maureen Joyce McKenna is our founder and Managing Director. She is very excited to create and bring world-class theatre to Santa Fe. She is an actress who has appeared on stage in New York, London and Los Angeles, where she won a Dramalogue Award. As a theatre producer she discovered the playwright Neil Labute and produced his first play in New York City. She hopes to discover equally talented South Western playwrights and introduce them to a national audience.
GEOFF WEBB
Technical Advisor
In the dim distant past Geoff was first exposed to theatre working as a stagehand while studying architecture at UNSW. He experienced first hand the tricks and traditions of the stage, the magic and transience of theatre, the ephemeral glow of a new production and working with larger than life personalities. After finishing his studies, he began working as a junior architect in a prestigious architectural firm.
Two weeks later a new theatre company was formed from the ashes of the bankrupt Old Tote Theatre Company so Geoff ended his architecture career to became a founding member of the Sydney Theatre Company building scenery. After a time it was off to graduate school where the three next years at the Yale School of Drama were both exhausting and stimulating beyond all expectations. On graduation Geoff began work at the Metropolitan Opera as a Design Engineer responsible for assisting designers in defying the laws of physics. Another whole world of performance was revealed, this time on a truly Grand Operatic scale.
Geoff, with two other Met stage technicians, invented and patented the Simultext® multi-lingual captioning system which premiered at the Met in 1995. Geoff left the Met to install another SImultext® system at the Santa Fe Opera. Figaro Systems, Inc. was incorporated and installed Simultext® into the leading opera houses and cultural flagships around the world.
Last year Geoff returned to his theatrical roots by designing Gidion's Knot. The genesis of a new theatre company is an irresistible event that happens all too infrequently. The birth of the Adobe Rose Theatre is a rare and precious event and Geoff is honored and thrilled to participate in bringing this innovative company to life.