Opening Next Week!
Extremities by William Mastrosimone
He thought it was going to be easy — until it wasn't.
"A good, jolting evening" — N.Y. Daily News
"It is hard to imagine anyone unmoved… or unshaken by the tough questions the play raises." — Talkin' Broadway
"A white knuckle psychological thriller." — USA Today
See what happens when a resilient young woman turns the tables on her attacker. This searing drama will have you on the edge of your seat! Watch as three very different young women become judge and jury, but will they become the executioners too?
Special Reception:
Saturday, May 26 @ 6:45 PM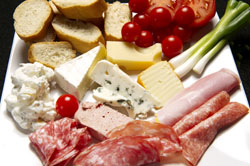 Join us on Saturday, May 26 at 6:45pm for a benefit performance of our powerful revival of EXTREMITIES by William Mastrosimone! Proceeds will be donated to Theatre Santa Fe. Have a nosh, see a great show, make some new friends, and support theatre in Santa Fe!
Extremities by William Mastrosimone
Directed by Melissa Chambers
Starring Mariah Olesen, Marianna Gallegos, Nicole Bartlett, and Koppany Pusztai
May 24th to June 10th
Thursday - Saturday 7:30 PM, Sundays 3:00 PM
New Podcast: Melissa Chambers, Mariah Oleson, and Koppany Pusztai on The Richard Eads Show
Last Thursday, Melissa Chambers and two of the cast members of Extremities appeared on The Richard Eads Show on Santa Fe's KTRC (1260AM/103.7FM). Learn more about the origins of Extremities and how Melissa and the cast approached the play's subject matter.
About Melissa Chambers
Melissa began acting at age 11 at Arena Stage in Washington, D.C. She graduated from The National Conservatory for Dramatic Arts in D.C. and attended the American Academy in New York. Before returning to her beloved New Mexico in 2009, she started and directed the theatre program at Edison State College in Punta Gorda, Florida.
Since her return she has been seen on stage in The Santa Fe Playhouse production of The Effects of Gamma Rays on Man-in-the-Moon Marigolds and in Bus Stop here at The Adobe Rose Theatre.
Melissa is a SAG actor and has done turns in Longmire and The Nightshift. She was as a series regular on the second season of Nick Nolte's TV show Graves as Lucinda Raines. She worked with Cybill Shepard in her recent film, Rose, which was shown at the 2018 Cannes Film Market this past Wednesday.
Extremities Rehearsal Photos

Support The Rose
Since January, The Adobe Rose has been a home to Firerock, The Roommate, Constellations, Hung Like A Seahorse, Natural Shocks, Upstart Crows, Monte del Sol School and now Extremities! Please help us in our effort to grow theatre in Santa Fe through performance and subsidized space.
The Adobe Rose Theatre is a registered 501(c)(3) Non-Profit organization. To donate via PayPal, click the "Donate Now" button below. To learn more about giving opportunities, contact Maureen McKenna at 505-629-8688 or adoberosetheatre@gmail.com.
Thank you for your support!