Happy New Year from The Adobe Rose!
Upcoming Plays:
Firerock: Pass the Spark
A powerful call to action in musical form
and
The Roommate
The Adobe Rose's first production of 2018
One Week Only!
Firerock: Pass the Spark
Directed by Acushla Bastible
with
Music Direction by Enrico de Trizio
Starring Donna Bella Litton, Paul Kandel, Gina Breedlove,
Charles Gamble, Lina Ramos, and Dylan Norman
Music performed by Molly Sturges, Enrico de Trizio,
Jeremy Bleich, and Rich Reed
Book by Acushla Bastible, Georgina Escobar, Nancy Vitale, and Molly Sturges
Score by Molly Sturges, Enrico de Trizio, Luis Guerra and Acushla Bastible
Performances
Friday, January 19th, 7:30 PM
Saturday, January 20th, 3 PM
Saturday, January 20th, 7:30 PM
Firerock: Pass the Spark is a powerful new family-friendly musical, community engagement and call to action that activates hearts, imaginations and communities to meet the challenges of climate change. It brings us together through the ancient practices of song, story, and group creation and reflection. At its core is a warm-hearted, mythical, musical production and community engagement that illuminates our disconnection from ourselves, each other, the planet and specifically the impacts of extractive energy. Firerock digs beneath the surface to build our capacity and shared purposes as we move towards our fossil-free future. The musical is an adaptable, open-source, DIY project designed to evolve with each performance. Performances are integrated with activities intended to create community spaces for critical dialogue and sustained action. Ultimately, Firerock strengthens our connections, builds resilience, and is a powerful tool to support universal access to clean water, soil, air, and energy.
General $20
Seniors and Students $15
For more information, visit firerockmusical.com.
Coming to The Adobe Rose in February: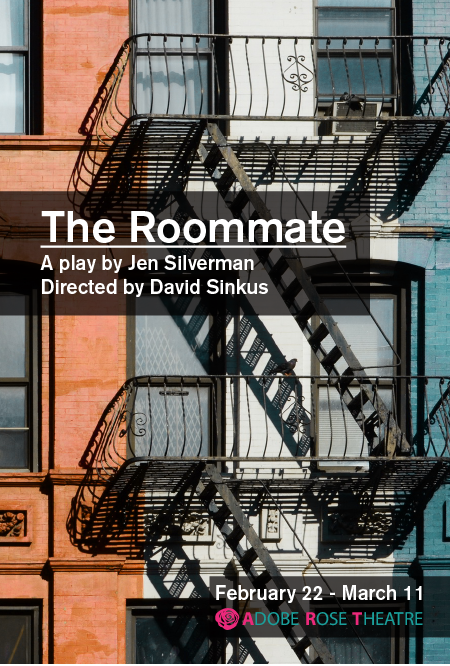 The Roommate
Directed by David Sinkus
Written by Jen Silverman
Come join us for ART's first production of 2018!
The Rose is excited to announce our first production of the 2018 Season, up and coming playwright Jen Silverman's two-woman show, The Roommate, opening February 22nd and running through March 11th. We had originally planned an Israel Horowitz retrospective, but given recent events concerning entitled males in the entertainment industry, the Rose felt that promoting and honoring a talented female playwright would be better (!).
"Silverman is an emerging talent to be reckoned with. Particularly impressive is her unsentimental insight into the risks of radical reinvention: Sharon's belief that 'everybody wants to ... just burn it down and start over' has potentially dangerous consequences for an Iowa divorcee - or a nation, for that matter."
- The LA Times
Come celebrate Ms. Silverman's critically acclaimed coming-of-middle age story about two women in their 50s. Sharon, a divorcee living in Iowa, is trying to figure out who she is after a bitter divorce. Lonely, she advertises for a roommate to help her fill up her days. But he doesn't exactly get the kind of roommate she expected: Robyn, a quirky and passionate woman from The Bronx with a mysterious past, who behaves in ways Sharon would never have imagined a "woman of a certain age" should act.
As different as the two women are, they begin to recognize that they are on a shared journey. They come to know each other - and themselves - and learn that it's never too late to redefine yourself and change your life.
"There's nothing new about an odd-couple setup, of course, and the idea of an outsider as a disruptive, destabilizing, and ultimately clarifying force is also a familiar dramatic device. The thing is to do it well, and 'The Roommate' does, while exploring the mysteries of friendship, parenthood, attraction, and the surprises that can lie inside any human being."
- The Boston Globe
The Roommate will be directed by David Sinkus, who not only hosts the Weeknights with David on 95.5 KHFM Classical Public Radio, but was most recently seen at the Rose playing Richard in the critically acclaimed Time Stands Still. David has served as a Master Teaching Artist for two nationally recognized theatres: Roundabout Theatre Company and Lincoln Center Theatre in New York City. He has performed in television and film, and on stages across the US, Off-Broadway, and internationally. We so excited to welcome him back!
The Roommate
Showing Feburary 22 to March 11
Thursdays - Saturday 7:30 PM, Sundays 2 PM
Runtime: approximately 100 minutes
Support The Rose
The Adobe Rose Theatre is a registered 501(c) Non-Profit organization. To donate via PayPal, click the "Donate Now" button below. To learn more about giving opportunities and season subscriptions, contact Maureen McKenna at 505-629-8688 / adoberosetheatre@gmail.com. Thank you for your support!
Adobe Rose Theatre
We are a new theatre in Santa Fe, New Mexico. Our mission is to create high quality, sustainable professional theatre that contributes to the cultural, educational and economic environment of Santa Fe.