Showing Now at the Adobe Rose Theatre:
CONSTELLATIONS
by Nick Payne
Love is the Universal Constant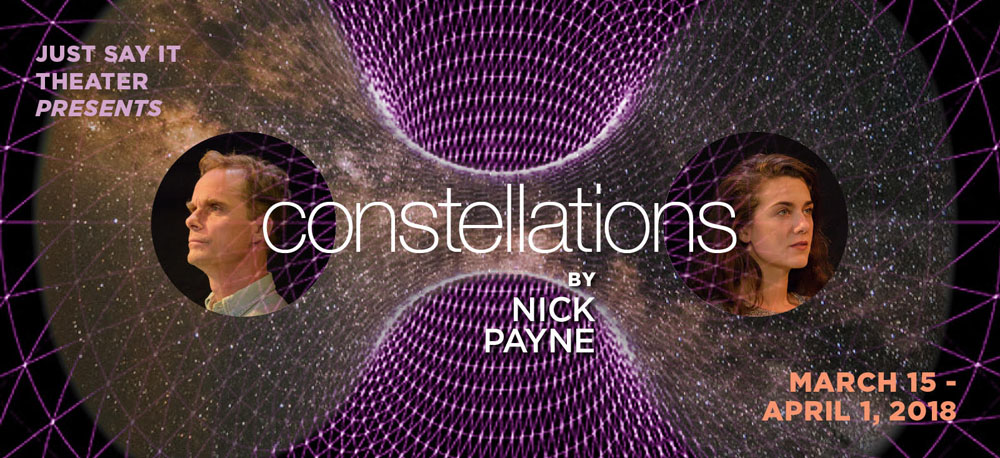 Directed by Lynn Goodwin
Starring Scott Harrison and Alexandra Renzo
Thursdays, Fridays & Saturdays at 7:30 PM
Sundays at 3:00 PM
Now until April 1st, 2018
Just Say It Theater's production of Constellations, by Nick Payne, at the Adobe Rose Theatre features Scott Harrison and Alexandra Renzo. The play, directed by Lynn Goodwin, follows a man and woman from a simple meeting into an array of permutations of their relationship that unfold in multi-universes.
Talkback: Meet Physicist Van Savage, PhD
Sunday, March 25th
Physicist Van Savage, who holds a PhD in Quantum Field Theory, will be doing a talkback after the March 25th showing of Constellations. All multiverse questions are welcome!
Engrossing, humorous and provocative, Constellations is particularly relevant in these times. "The play highlights the impact of individual choices," says director Lynn Goodwin. "Ultimately, human compassion is tested as these characters bump against immovable fate."
New review: Mark Dunn, Talkin' Broadway
Mark Dunn of Talkin' Broadway came to the opening performance of Constellations. Here's some of what he had to say:
Renzo and Harrison are more than good actors: they are mesmerizing, and their multiple interpretations of these characters are riveting.
Director Lynn Goodwin has put her actors through some incredible paces […] Payne's surgically crafted dialogue creates opportunities for exciting theatricality.
An international hit, Constellations won the Evening Standard Best Play Award and was nominated for an Olivier Award for Best New Play. The New York Times stated, "Constellations … may be the most sophisticated date play Broadway has seen … And though Constellations is a supremely articulate play, it knows that words inevitably fail, that they are never enough to bind two people together forever." Variety called Constellations, "Short and sweet and strangely haunting."
Winning Equation:
Creating The Music of Constellations
Many people who have seen Constellations, including the reviewer Mark Dunn for Talkin' Broadway, have commented about the music that opens and closes the play. We spoke with Lynn Goodwin and Dale Dunn about their process for creating the music for Constellations.
Lynn Goodwin (Director/Co-Artistic Director, Just Say It Theater): I wanted the music for Constellations to encompass the audience, but subtly. Listening to a variety of music from innovative composers, such as Brazilian guitar virtuoso Arthur Kampela and contemporary American composer Steve Reich, gave me a sense of what music could do to transport an audience emotionally on this play's particular journey.
Dale Dunn: (Dramaturg/Co-Artistic Director, Just Say It Theater): We knew we were going to have to do something simple. The music had to be something organic, something that reflected the beautifully sustained sense of hope and love and loss that Nick Payne conveys so beautifully in the play.
Lynn: We stumbled across a single sustained note from a pop-up YouTube ad. "That's it!" "Something like that!" we said at the same time.
Dale: We moved quickly to Lynn's piano and began picking our way around, trying to figure out how to incorporate the emotional arc of the play in a few notes.
Lynn: Dale is quite an accomplished pianist… So we sat at the piano and came up with the notes for each scene, matching the content of the scene with the sound of each note. It had been a dream of mine from the beginning to have a theme for the beginning and the end of the play. Two days later Dale invited me to her house and played the basic Constellations theme. I was blown away.
Dale: I don't really know where it came from. I sat at the piano for a while, listening to the multiverses, I guess, letting the sense of humanity, the concern for the future of the planet, the concern for each individual heart and its destiny that Nick Payne writes about, really flow. When I saw tears well up in Lynn's eyes, I knew I had hit the right notes.
Lynn: From there, we hammered out the details together — she on the keyboard, me in my mind. It's amazing what we can do when we have a need, a passion, and a friend.
New Podcast: Dale Dunn, Lynn Goodwin & Van Savage on Constellations
The Richard Eeds Show - March 10, 2018
Constellations Director Lynn Goodwin, Dramaturge Dale Dunn, and Physicist Van Savage, PhD all appeared on The Richard Eeds Show on KTRC 103.7 FM last Sunday to discuss Constellations.
Constellations by Nick Payne Directed by Lynn Goodwin
Starring Scott Harrison and Alexandra Renzo
Thursdays, Fridays & Saturdays at 7:30 PM
Now until April 1st, 2018
Sundays at 3:00 PM
Runtime: Approximately 75 minutes

4 Shows Only!
Hung Like A Seahorse
A Real-Life Transgender Adventure of Tragedy, Comedy, and Recovery
Written and Performed by Quinn Alexander Fontaine
Directed by Susan Mele
April 5th & 6th at 7:30pm
April 7th at 2pm & 7:30pm
"Quinn's journey is the epitome of authenticity."

— Michael Bernard Beckwith, Spiritual Liberation
Tell Baby Productions is pleased to announce the world premiere of Quinn Alexander Fontaine's comedy Hung Like A Seahorse: the show+tell version, directed by Susan Mele. This comedic foray into Fontaine's existence is the companion piece to his first book, "Hung Like A Seahorse: A Real-Life Transgender Adventure of Tragedy, Comedy, and Recovery".
For more information, visit Quinn's website at www.quinnfontaine.com.
This play is intended for theatregoers 18 years and older.
Support The Rose
The Adobe Rose Theatre is a registered 501(c) Non-Profit organization. To donate via PayPal, click the "Donate Now" button below. To learn more about giving opportunities and season subscriptions, contact Maureen McKenna at 505-629-8688 / adoberosetheatre@gmail.com. Thank you for your support!
Adobe Rose Theatre
We are a new theatre in Santa Fe, New Mexico. Our mission is to create high quality, sustainable professional theatre that contributes to the cultural, educational and economic environment of Santa Fe.