The Adobe Rose Theatre presents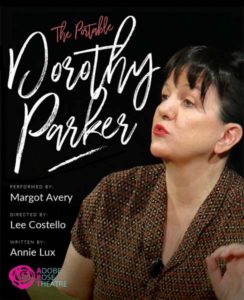 The Portable Dorothy Parker
Directed by Lee Costello
Written by Annie Lux
Starring Margot Avery
Showing October 5–15th
Thursdays – Saturdays 7:30pm, Sundays 3:00pm
Click here to purchase tickets from Brown Paper Tickets, or order by phone at 1-800-838-3006.
What fresh hell is this? Dorothy Parker—famed wit, writer, and critic—is on the warpath. Viking Press is about to publish a collection of Dorothy's poems and short stories, and Dorothy must make the selections. Now. As Dorothy sorts through her works, she reminisces about her life: her famous friends (Lillian Hellman, F. Scott Fitzgerald, and, especially, Ernest Hemingway), the wits of the Round Table, the founding of The New Yorker, and her many loves and heartbreaks. Has it all been worth it? Has she made her mark as a writer, or is she merely "clever"?
Support The Rose
The Adobe Rose Theatre is a registered 501(c) Non-Profit organization. To donate via PayPal, click the "Donate Now" button below. To learn more about giving opportunities and season subscriptions, contact Maureen McKenna at 505-629-8688 / adoberosetheatre@gmail.com. Thank you for your support!
Adobe Rose Theatre
We are a new theatre in Santa Fe, New Mexico. Our mission is to create high quality, sustainable professional theatre that contributes to the cultural, educational and economic environment of Santa Fe.