Oasis Theatre
Oasis Theatre Presents
Marriage by the Masters
On our Stage from July 13 - 30
Thursday through Saturday at 7:30pm and Sunday at 3pm
or by calling 505-988- 1234
Tickets: $20 Adults | $10 Students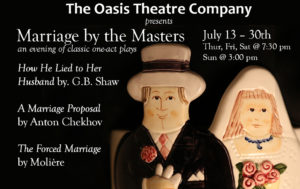 Cast List:
Corbin Albaugh, Patrick Briggs, Mairi Chanel, James Jenner*, Kelly Kiernan*, Monique Lacoste, Hamilton
Turner and John Widell
*Members of Actors' Equity Association.
Building the Wall ART
The Oasis Theatre Company, a New York-based theater company, will present Marriage by the Masters,
a delightful evening of one-act plays on the complex subject of love and marriage by the inimitable
playwrights, Shaw, Chekhov and Molière.
Under the leadership of Producing Artistic Director Brenda Lynn Bynum and Managing Director James Jenner, The Oasis Theatre Company has done more than 125 plays ranging from Shakespeare, Molière, Chekhov, Shaw, Shepard, Mamet, and Tennessee Williams as well as a film based on Ring Lardner's "The Haircut," videos documenting Mayan civilization and Mayan elders' teachings, conducting acting and vocal workshops and classes, and providing other community educational services. This is our inaugural production in Santa Fe and we are thrilled to be presenting at The Adobe Rose Theatre. MARRIAGE BY THE MASTERS is comprised of three one-act plays by great playwrights of the Western hemisphere. How He Lied to Her Husband by G.B. Shaw, A Marriage Proposal by Anton Chekhov and The Forced Marriage by Molière.. How He Lied to Her Husband* – He writes her love poems, She enjoys it immensely . . . until they go missing from her workbox. This drawing-room comedy, devised and sculpted by G.B. Shaw, is based on one of his true life experiences.
In A Marriage Proposal, Lomov, a lifelong neighbor, comes to ask for Natalyia's hand in marriage, and she hasn't a clue. The comical miscues reach a farcical climax that only Chekhov could craft from his fertile imagination. Moliere's The Forced Marriage* (translated by Albert Bermel) presents Sganarelle, a "middle-aged" bachelor, with designs for marrying an alluring mademoiselle who happens to have a stratagem of her own.
NEW PLAY FEST
THE ADOBE ROSE THEATRE NEEDS YOU FOR OUR FIRST ANNUAL NEW PLAY FEST!  
SUBMISSION DEADLINE:  July 1st
The Adobe Rose Theatre announces our first annual New Play Fest entitled "The Morning After." We will produce seven short plays where we hope the artists will tell us about the lives of people we do not know, but should, in the aftermath of an election - any election.  At any historical or current time, any place, any country. So, write something.
Tell us how you feel – through farce, comedy, tragedy, and everything in between.  Challenge us with unexpected events, places, characters, and points of view that illuminate this defining and divisive moment in American history.
For more information and submission guidelines, click here to visit the New Play Fest page. Please send PDF formats to artnewplayfest@gmail.com
Good luck!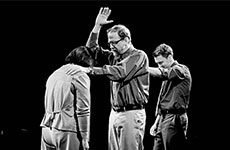 Support The Rose
The Adobe Rose Theatre is a sponsored project of Teatro Paraguas, a local non-profit arts service organization. Contributions must be made payable to "Teatro Paraguas and are tax-deductible to the extent permitted by law. To make a donation, click on the Donate Now button below. To learn more about giving opportunities and season subscriptions, contact Maureen McKenna at 505-629-8688 / adoberosetheatre@gmail.com. Thank you for your support!
Adobe Rose Theatre
We are a new theatre in Santa Fe, New Mexico. Our mission is to create high quality, sustainable professional theatre that contributes to the cultural, educational and economic environment of Santa Fe.