The Ultimate Christmas Show (abridged)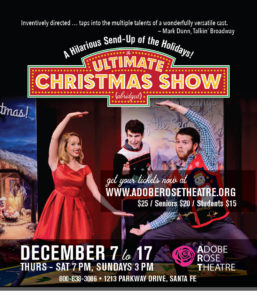 "A pure delight from start to finish ... Inspired madness!" - Broadway World
"Inventively directed ... taps into the multiple talents of a wonderfully versatile cast - Talkin' Broadway
Welcome to the Annual Holiday Variety Show and Christmas Pageant at St. Everybody's Non-Denominational Universalist Church, where all faiths are welcome because we'll believe anything. But there's a problem: none of the acts scheduled to perform have arrived, so the three members of the congregation are pressed into service to perform the entire Variety Show and Christmas Pageant by themselves. The goofballs of the congregation take you on an irreverent yet heartwarming trip through the holidays in The Ultimate Christmas Show (abridged). It's festive funny physical family fun as these Three Wise Guys send-up and celebrate your favorite winter holiday traditions.
LEARN! How Santa saved Christmas!
SING! The Ultimate Reduced Christmas Carol!
CELEBRATE! Hanukkah, Kwanzaa, and Saturnalia!
CRINGE! At the origin of the term "Nutcracker!"
MEMORIZE! New lyrics to "The 12 Days of Christmas" with iPads – not Lords – A-Leaping!
GASP! At the shocking history of our best-loved Christmas traditions!
The Ultimate Christmas Show (abridged)
Written by Reed Martin & Austin Tichenor
Directed by Kate Chavez and Robin Holloway
Starring Dylan Norman, Mariah Olesen, Koppany Pusztai
Showing November 30th - December 17th
Thursdays - Saturdays 7:00 PM, Sundays 3:00 PM $25 / Seniors & Military $20 / Students $15
Support The Rose
The Adobe Rose Theatre is a registered 501(c) Non-Profit organization. To donate via PayPal, click the "Donate Now" button below. To learn more about giving opportunities and season subscriptions, contact Maureen McKenna at 505-629-8688 / adoberosetheatre@gmail.com. Thank you for your support!
Adobe Rose Theatre
We are a new theatre in Santa Fe, New Mexico. Our mission is to create high quality, sustainable professional theatre that contributes to the cultural, educational and economic environment of Santa Fe.