We're up to $35,000!
Thank you so much to everyone who has donated! We've received just over $35,000 so far.
Last year we welcomed over 10,000 visits to The Adobe Rose. In order to serve the next ten thousand and more, we need to renew our lease and hire full-time staff. So far over 70 generous souls have given us $25,000 in pledges toward our $100,000 goal.
All pledges of of all sizes will help us the keep the lamps burning. It only takes 75 people pledging a thousand dollars, or 750 people pledging $100 by our December 31st deadline.
We've been hard at work getting the message out. Keep reading for our interview on The Richard Eeds Show about the drive. We've also got a great slideshow about the past and future at The Rose.
We won't collect on these non-binding pledges unless we reach our goal of $100,000.
Pledge Note Of The Day
Our easy-to-use Pledge form lets you add a short personal note — and they have made for great inspiration to keep pushing in our pledge drive. Check out our Facebook page for more pledge notes.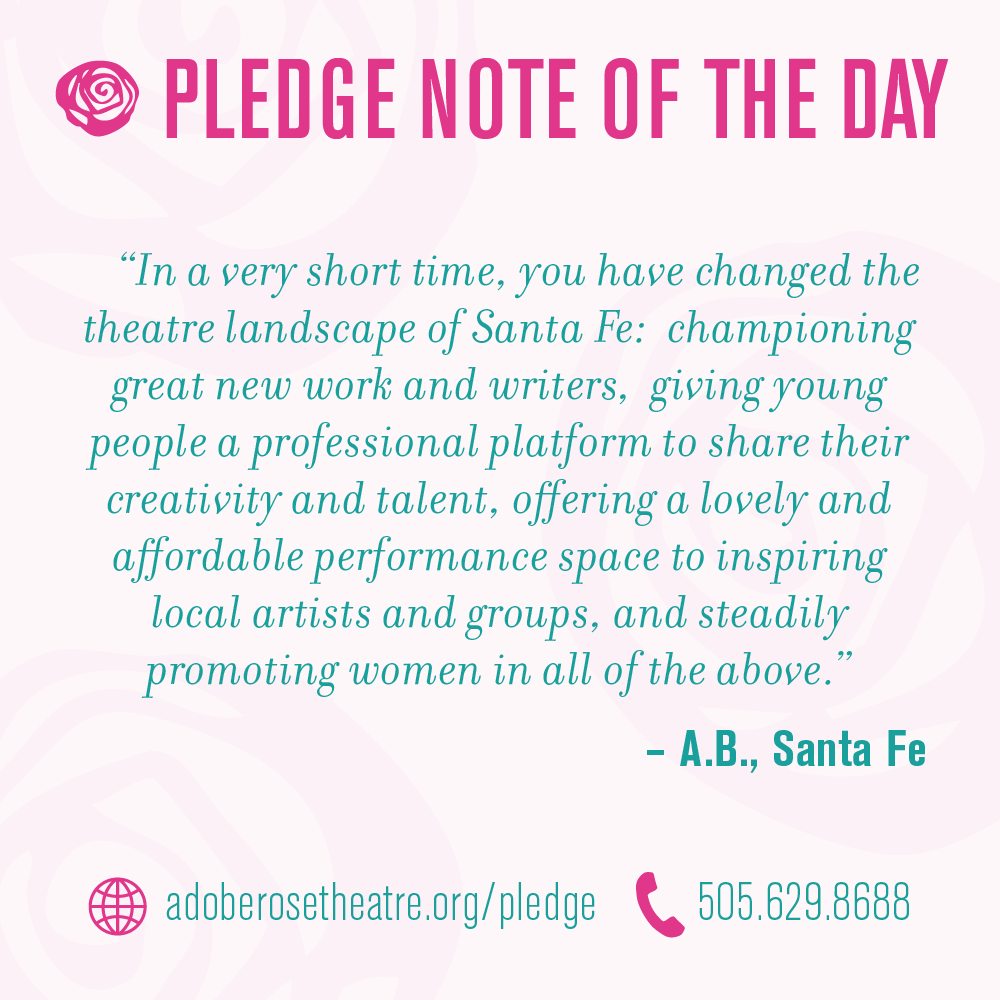 Podcast: Bruce & Maureen McKenna on The Richard Eeds Show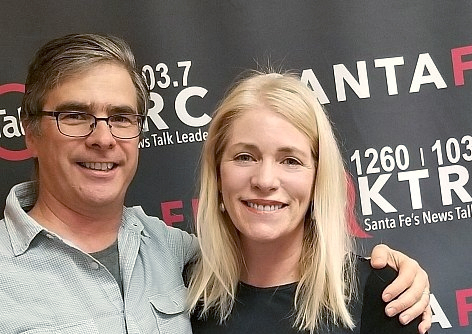 Bruce & Maureen went on to The Richard Eeds Show yesterday on KTRC to talk about the pledge drive. Listen now to hear them talk about the incredible success of the pledge drive so far.
Watch Our Slideshow: "The Future of The Adobe Rose"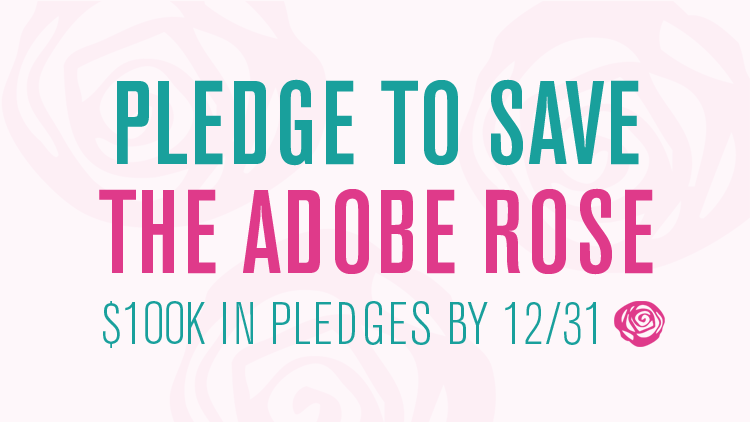 We've prepared a slideshow about what The Rose has accomplished so far – and why we need your pledge today to help keep things going.
The Future of the Adobe Rose
From Bruce & Maureen McKenna
Dear Patrons,
We learned last week that our lease at the theatre expires January 31, 2019 (we have a two year option beyond that). We have enjoyed the last three years, fulfilling our mandate of creating quality shows and providing space for other theatre groups and the greater Santa Fe community.
The list of creative partners and groups that we've been privileged to work with is dizzying: The Upstart Crows, The New Deal Organization, Mandela Magnet School, Monte Del Sol School, the International Shakespeare Center, The National Endowment for the Arts, Theater Grottesco, Littleglobe Theatre, Theaterwork, Springboard For the Arts — just to name a few. In addition, we have been able to attract internationally-known playwrights and performers to Santa Fe, including the Pulitzer Prize-winning Robert Schenkkan, and the Broadway-bound Ann Randolph.
In order to continue to provide our unique performance space to Santa Fe we need to add two full time staff members – a theatre manager and a technical director. And so we are announcing a pledge drive: We need $100,000 in pledges by December 31st or we will be forced to close the theatre. That amount might mean 100 people giving a $1,000 each or a thousand people giving $100. Last year, we welcomed over ten thousand visits to the Rose. If everyone chips in, perhaps we can experience our own Santa Fe Holiday Miracle. We will contact you to process your pledge only if we meet our $100,000 goal. Otherwise, thank you for three very exciting years.
Please help Santa Fe keep the Adobe Rose Theatre a vibrant part of our community.
Sincerely,
Bruce and Maureen McKenna

Welcome, Mandela International Magnet School!
The Adobe Rose Theatre is proud to provide space for independent theatre companies and schools in Santa Fe. Our last theatre event of the year was a private event for Santa Fe's Mandela International Magnet School.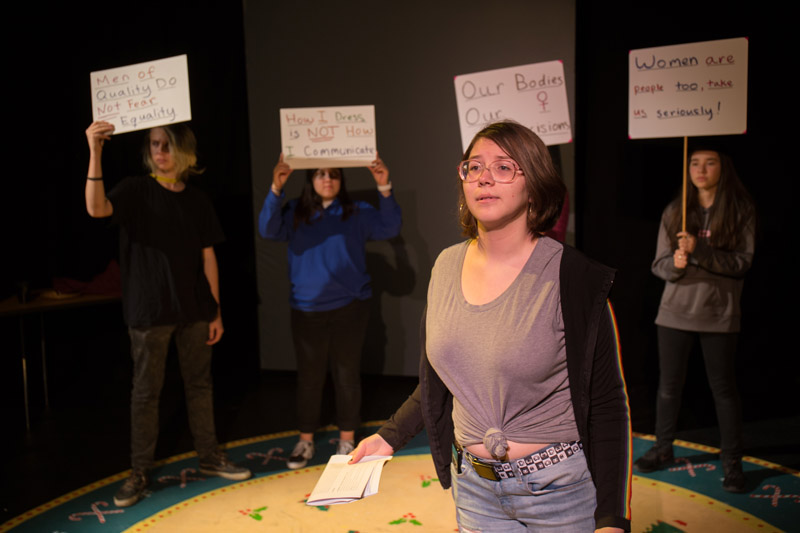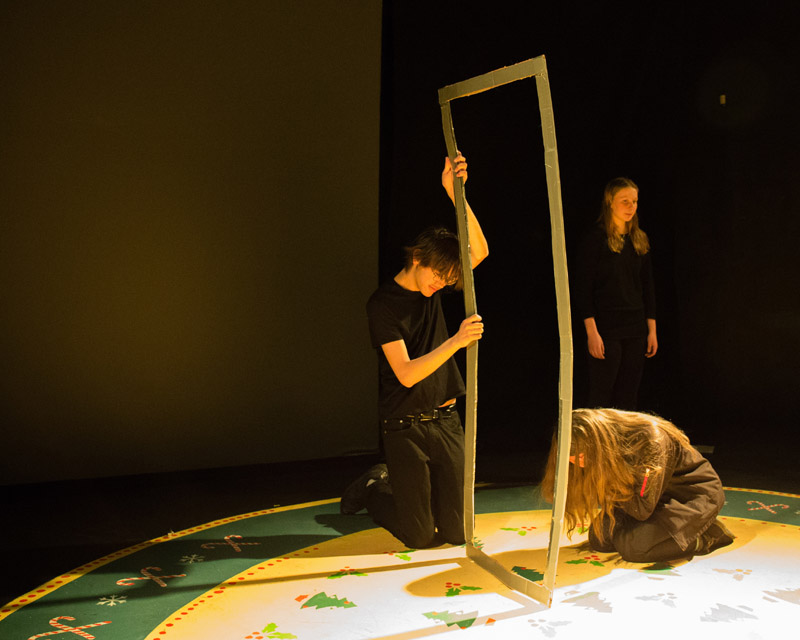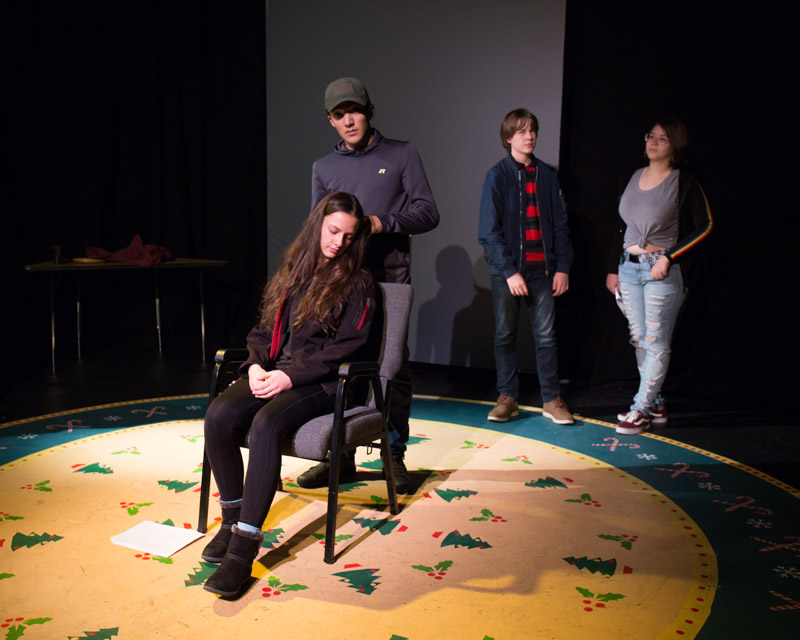 Thank You To Our Sponsors
Since January, The Adobe Rose has been a home to Firerock, The Roommate, Constellations, Hung Like A Seahorse, Natural Shocks, Upstart Crows, Monte del Sol School, Extremities, Inappropriate in the Right Ways, CarneyMagic, King Lear, The Revolutionists, and The Ultimate Christmas Show (abridged)!
Our last event of the year will be hosting a Community production by Mandela International Magnet School.
Thank you so much to our sponsors for making it all possible!
This project is supported in part by New Mexico Arts, a division of the Department of Cultural Affairs, and by the National Endowment for the Arts.
All Adobe Rose Theatre productions are presented in
partnership with The City of Santa Fe Arts Commission.