Adobe Rose Annual Membership Program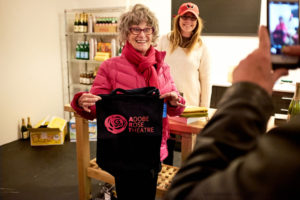 Thank you so much for your interest in the Rose. We are a 501 ( c ) 3 nonprofit theatre. Our membership levels are listed below, but we welcome all donations through our fiscal sponsor, Teatro Paraguas, a nonprofit New Mexico 501 ( c ) 3 corporation. Click on the button below, and when directed to the Teatro Paraguas donations page, make sure to write "Adobe Rose Theatre" in the Purpose Box provided.
Again, thank you for your help and support, because…Theatre Matters™!
STUDENT
Membership starts at $25 for patrons under 25 years of age. Your donation earns you a 15% discount on merchandise, invitation to Member only events, and 1 ticket to our Sunday at 7 Series at the Theatre.
UNDERSTUDY
Your $100.00 donation earns you a tote bag, 15% discount on merchandise, 2 tickets to our Sunday at 7 Series, advance notice of ticket sales for all events and plays, and invitation to members only events.
ENSEMBLE
Your $250.00 donation earns you all the above benefits plus 2 tickets to a play of your choice and an Adobe Rose T-Shirt.
FEATURED ROLE
Your $500.00 donation earns all of the above, plus 2 season tickets, and invitation to VIP events.
LEADING ROLE
Your $1000.00 donation provides you with all the above benefits, plus an invitation to our annual benefactors dinner for 2 with luminaries from the season's cast, crew and special guests.
STAR
For $5,000.00 both corporations and individuals can underwrite an ART show when our season is announced. These sponsors will be prominently recognized in all theatre advertising, our Playbills and signage at the theatre.